1.1 Chemical name: Ethyl methacrylate
1.2 Generic name: Ethyl methacrylate
1.3 Synonyms: EMA, cosmetic monomer, ethyl 2-methylacrylate
1.4 Recommended use and restrictions of use: manufacture of artificial nails with aesthetic and functional purposes: lengthen, repair, reconstruct, and decorate natural nails.
1.5 Emergency number: In case of emergency contact the Occupational Health and Safety Coordination, (57) 4 4038760 ext. 1304, 1306.
2.1 GHS classification, where: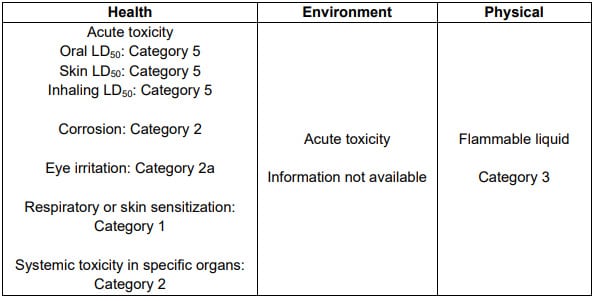 2.2 GHS labeling: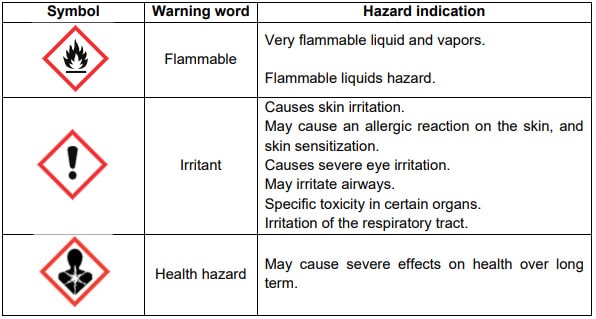 2.3 Precaution indications: Stable liquid under normal conditions of temperature and pressure. Hazardous polymerizing or explosion may occur if contaminated with peroxides, metallic salts, polymerizing initiators, polymerizing catalysts. Its vapors do not have a narcotic effect; however, it may cause irritation on the eyes, skin, and airways.
2.4 Appearance in case of emergency: colorless liquid, irritating and penetrating odor.
2.5 Potential adverse effects on health: possibility of sensitization in contact with skin. Prolonged contact may cause dermatitis. May cause irritation on airways at high concentrations in the atmosphere.
2.6 NFPA:



2.7 OSHA Regulatory Status: Not established.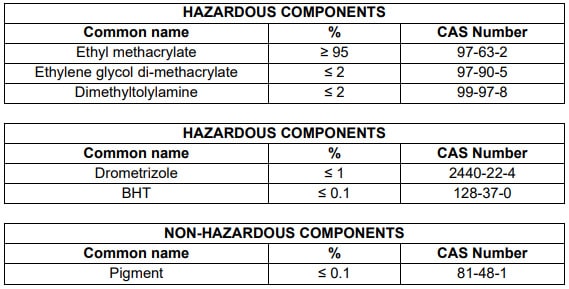 4.1 Emergency procedures and first aid measures in case of:
– Inhalation: Take the patient to a ventilated place.
– Contact with eyes: Rinse eyes immediately with abundant water, maintaining eyelids open. See an ophthalmologist.
– Contact with skin: Rinse skin immediately with abundant water. Remove contaminated clothes. See a physician if symptoms appear (irritation or blisters).
– Ingestion: Drink abundant water. See a physician.
4.2 Major symptoms/effects (acute and/or delayed): May cause allergy symptoms or airways irritation if inhaled. May cause organ damage (lungs, kidneys, and liver) after prolonged or repeated exposure.
4.3 Antidote: not applicable.
4.4 Information for physicians: not applicable.
5.1 Flammability properties: Highly flammable. Produces vapors heavier than air, forming explosive mixtures at room temperature. In case of fire it can produce dangerous toxic gases. Closed containers may rupture explosively if heated.
5.2 Extinction media: CO2, foam and/or powder.
5.3 Inappropriate extinction media: Water. Water may not be effective to extinguish the fire. Liquid spills may result from spraying with water.
5.4 Firefighting instructions: Special protective equipment should be used. In case of staying in the risk area, self-contained breathing apparatus and appropriate protective clothing should be used.
5.5 Firefighters protection: Properties and possible hazards of the material:
• The containers may break and release toxic vapors.
• Hazardous polymerization may occur due to high temperatures.
• Closed containers may break violently in case of fire.
5.6 Protective equipment and protection for firefighters: Self-contained breathing apparatus and encapsulated suit should be used. Evacuate the affected area and attack the fire from a safe distance.
6.1 Techniques, procedures, materials, and protective equipment in case of:
– Small spills: Absorb spills with sand, soil, or other appropriate absorbent material. Do not use sawdust or other combustible materials. Transfer to a container for its disposal.
Ensure appropriate ventilation.
– Large spills: Avoid the product to get into drains. Absorb spills with sand, soil, or other appropriate absorbent material. Do not use sawdust or other combustible materials.
Transfer to a container for its disposal.
Uncontrolled discharge in waterways must be notified to the competent authorities.
Ensure appropriate ventilation.
6.2 Environmental precautions: Avoid filtration on land and in water. In case of large spills or if the product contaminates lakes, rivers, or seas, inform the competent authorities, according to local legislation.
6.3 Other considerations: Use only in well ventilated places.
Avoid accumulation of electrostatic charges. Prevent waste from entering surface or subway watercourses.
7.1 Handling: Follow fire-fighting measures. The product must be away from ignition sources.
7.2 Storage: Keep the product in a cool, dry, well-ventilated place (air atmosphere). Keep away from any flame or spark source. Do not smoke. Maintain away from heat and direct sunlight. Store away from oxidizing agents, acids, bases, and polymerizing
initiators. Do not store for prolonged periods of time which exceed the product's shelf life. Check the product (control translucency). Storage temperature must not exceed 30 °C (86 °F). The monomer vapors are not inhibited and may form polymers on the fans or flame quenchers, and they may cause blockage of fans.
8.1 Conditions to control exposure: Wear appropriate respirator, safety goggles, and gloves.
8.2 Engineering conditions: Appropriate ventilation, exhaust fan, emergency showers and eye-rinsing equipment in areas where the product is used.
8.3 Personal protective equipment:
– Respiratory equipment: Wear appropriate protective equipment. If exposure to values exceeding the occupational exposure limit is foreseeable, wear appropriate facemask with type A filter. In case of high quantities of vapor, use a self-contained breathing
apparatus.
– Eye protection: Safety goggles and full-face shield.
– Gloves: Wear appropriate gloves. The most appropriate gloves depend on a series of factors such as: physical strength of the glove, the degree of sensitivity required, permeability level of the material. Gloves with the most permeability are coated in
PVA/Polyethylene or in PVA linings. Butyl and nitrile rubber gloves also provide certain level of protection, but they must be replaced immediately if exposure has occurred.
The gloves need to be changed regularly and when excessive exposure has occurred.
8.4 Exposure parameters:
– Ethyl methacrylate
– PEL (OSHA): 10 ppm
– TLV ACGIH: 15 ppm
Appearance: Translucent liquid.
– Odor: Characteristic, strong ester.
– Odor threshold: data not available.
– Physical status: liquid
– pH: between 5 and 7.
– Freezing or melting point: data not available.
– Evaporation percentage: data not available.
– Initial point or boiling range: 118 °C (244.4 °F)
– Ignition point: Closed cup 45 °C (113 °F)
– Evaporation rate: Data not available.
– Flammability (solid or gas): Data not available.
– Upper/lower flammability or exposure limit: Data not available.
– Vapor pressure: 20 mm Hg.
– Vapor density: 3.94 at 20 °C (68 °F)
– Specific gravity or relative density: data not available
– Solubility in water: Slightly soluble.
– n-octanol/water partition coefficient: Data not available.
– Self-ignition temperature: not determined.
– Decomposition temperature: not determined.
– Viscosity: Not less than 1.5 cP.
– Density: 0.9 – 0.95 g/ml.
10.1 Chemical stability: Stable up to self-ignition temperature.
10.2 Possibility of hazardous reactions: Hazardous polymerization in case of exposure to heat.
10.3 Conditions to avoid: Prolonged heating or the presence of catalyst are likely to start polymerization.
10.4 Incompatibility with other materials: Polymerization catalysts such as peroxi- or azo-, strong acids, alkali, and oxidizing agents. Additionally, flammable bases, acids, and solvents.
10.5 Hazardous decomposition products: Vapors denser than air, which tend to accumulate forming flammable mixtures.
10.6 Hazardous polymerization: Exothermal reactions (heat generation).
11.1 Possible exposure ways: Respiratory, dermal, ocular, and some organs when exposed to high concentrations at extended times.
11.2 Acute toxicity
– Inhalation: Irritates respiratory ways. High concentrations in the atmosphere may cause irritation of respiratory ways, vertigo, headache, and anesthetic effects.
– Contact with skin: Possibility of sensitization in contact with skin. Irritates the skin.Repeated and/or prolonged contact may cause dermatitis.
– Contact with eyes: High concentration causes irritation.
– Ingestion: Low oral toxicity, but ingestion may cause irritation of the gastrointestinal tract.
11.3 Chronic toxicity: Long term exposure: Repeated exposure at high concentrations causes adverse effects on the heart, lungs, liver, and kidneys. According to studies, there is not any reason to consider that methyl methacrylate represents a carcinogenic
or mutagenic risk for humans. High concentrations do not cause toxic effects for the embryo or fetus, nor teratogenic effects in maternal toxicity.
11.4 Other information: does not apply.
12.1 Ecotoxicity:
– Low toxicity for fish.
– CL50 (Fish) typically ˃ 100 mg/L.
– CE50 (Daphnia magna) (48 hours) 69 mg/L.
– Low toxicity for algae.
– CE50 (Selenastrum capricornutum) (96 hours) 170 mg/L.
12.2 Persistence and degradability: Easily biodegradable. Chemical oxygen demand (COD) 88% (28 days). Dissolved organic carbon removal ˃ 95% (28 days).
12.3 Bioaccumulation potential: High-volatility liquid. The product is limitedly soluble in water. It has a low bioaccumulation potential.
12.4 Mobility on soil: It is foreseeable that it has high mobility on soil.
12.5 Other adverse effects: Data not available.
Do not dispose in water sources. Observe current applicable local regulations.
WARNING: Local laws, regulations and restrictions may change or be reinterpreted, and differ from national laws, so disposal and packaging considerations may vary from those in this document.
14.1 Hazardous material: Ethyl methacrylate.
14.2 Class of spill: Flammable liquid.
14.3 UN number: 2277
14.4 IATA classification: 3 (flammable liquid).
14.5 Packing group: Class 3, Group II. Medium-hazardous materials.
14.6 Marine pollutant (Yes/no): Yes.
15.1 In Colombia: Transport in accordance with the provisions set forth in decree 1609 of 2002 about the transport of chemical and hazardous substances by road.
15.2 International: Labelling in accordance with the guidelines of the CEE / Regulation on hazardous substances.
The information in this document is based on our current knowledge and is given in good faith, but no warranty is expressed or implied, nor is any responsibility assumed for improper handling of the product. This document has been prepared in accordance with:
– Globally Harmonized System of Classification and Labelling of Chemicals – GHS
– Colombian Technical Standard NTC 4435:2010. Transport of Goods. Material Safety Datasheets. Preparation.